SureWin Enterprise delivers quailty components to the window covering industry trade. Our goal is to provide both a superior customer experience and tremendous value for our customers.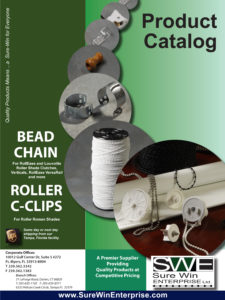 Download our catalog:
The professionals at SureWin Enterprise have years of experience in Window Covering Industry and are passionate about exceeding your expectations.
We love our customers and welcome your feedback and suggestions. Use our Contact Us page to tell us what we're doing right or what we can improve on.
Corporate Offices: 
10012 Gulf Center Dr, Suite 5 #272,  Ft. Myers, FL 33913-8904
T 239.362.3342  •  F 239.362.1383
Branch Offices: 
31 LaForge Road, Darien, CT 06820 • 

 

T: 203-655-1102    F: 203-655-8571

 

6333 Pelican Creek Circle, Tampa FL

 

33579